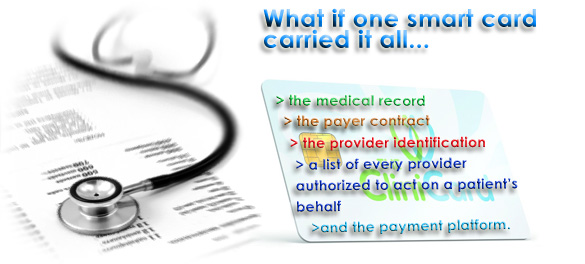 Welcome to The CliniCard website. As you might have noticed, the site is currently undergoing technical upgrades. We appreciate your patience. Please visit in a few days to discover how you could utilize the features, this card has to offer…
Access the best health and wellness service providers from various disciplines
Save up to 30% on products and services you use most
Securely monitor personal health information online (coming soon)
Provide the easiest, most affordable health benefits for employees
Enjoy added revenue for your medical clinic and increase time for patients.
Increase access to health and wellness services for all– regardless of income
Experience these and many more benefits. Join the CliniCard revolution today!
Watch our video to learn more…
The CliniCard, Health Portal Solutions, and Merchant360 Form Alliance to Improve Patient Identification and Payments Through Advanced Integrated Payments Solution
Tue Oct 11, 2011 8:40am EDT
The CliniCard, Inc. Announced Today That Health Portal Solutions, Inc. Has Demonstrated the PatientID+ Solution at the 31st Annual Self-Insurance Institute of America Conference and Expo
Reuters Newswire
PHOENIX, Oct. 11, 2011 /PRNewswire/ — The CliniCard, Inc., a pioneer in Advanced Card-Based Information and Payment Integration at the Point of Sale; Health Portal Solutions, Inc., an industry leader in Health Data Management for Self-Insureds; and Merchant360, the Leader in Near Field Communication technology (NFC) have announced an Alliance today to significantly improve the Patient Registration, Authentication and Payment experience for all Healthcare Stakeholders.
The solution is called PatientID+ and was demonstrated at the 31st Annual Self-Insurance Institute of America Conference and Expo, held in Phoenix, AZ, October 9th and 10th. SIIA's National Educational Conference & Expo is the world's largest event dedicated exclusively to the self-insurance/alternative risk transfer industry.
PatientID+ allows healthcare providers to perform PIN-secure identity verification, eligibility screening, and payment at intake. Identity, benefit, and payment information is securely stored on the PatientID+ system, which could be through a mobile contactless tag or in the patient's mobile phone equipped with Near Field Communication technology (NFC).
Doug Broeska, President of The CliniCard, Inc., said in a statement that "it's no secret that the medical adjudication and payments industry is seriously flawed and inefficient. This three-party Alliance serves to integrate the services of a sophisticated payment platform with a large Patient and Provider population to allow an integrated end-to-end service to happen with a single swipe of a card or a personal hand-held device at the point-of-service. The CliniCard's backend intelligence is really what does it all in the cloud."
"The goal is to get rid of those forms we all dislike to fill out when we get to the doctor's office, thereby speeding up the process, making it more convenient for the patient and increasing data accuracy. Having one solution that can act as my insurance card, my identity across multiple systems, and payment card is bound to cut costs and improve service," says Steve McRae, CEO of Merchant360, Inc.
"We are excited about the expanded capabilities the PatientID+ card brings to our health portal. Streamlining health data from many sources and delivering it to multi-users in a secure environment is our specialty. The card will enhance our user interface, giving members, providers, and payers a solution for further streamlining the process of sharing and managing health data and payment information and provide a complementary solution to our portal technology for reducing time spent on administrative tasks, cut customer service call volume, and tighten efficiencies overall," said James Burkholder, CEO of Health Portal Solutions, Inc.
About The CliniCard, Inc.
The CliniCard is able to securely deliver automatically adjudicated health benefits at any Provider with one simple and seamlessly integrated payment card. The patented method means that multiple forms of payment transactions by specific Providers can be performed on one card with full data tracking in Real-Time. Customized transaction-specific rules can be implemented by the sponsor. The CliniCard technology makes funding healthcare benefits simple, secure and less expensive through a single card that supports many additional features.
About Merchant360, Inc.
Merchant360, Inc. is the leader in Point of Sale development and integration with specialty in mobile contactless and Near Field Communication Solutions. Merchant360 owns several other NFC focused brands such as Mobifyer, MobiTap.me, and TapInto.me. For more information, visit http://Merchant360.net or on Twitter at http://twitter.com/mobifyer.
About Health Portal Solutions
Health Portal Solutions is a software company with over 10 years of experience developing and supporting healthcare web portals for hospital systems, corporations, and TPAs across the globe. These web portals let users access important medical data, claims information, and wellness tools.
Health Care News
Stay on top of the latest medical and healthcare news. Our medical news page links you to resources such as the Canadian Medical Association (CMA) and current headline health news.
Find a Community Health Provider
Finding the right healthcare professional for you and your family is sometimes difficult. We make it easier with our frequently updated database of community health providers.
Become a CliniCard Community Health Provider
If you offer health and wellness services and/or products visit our Health Communities section to learn how becoming a CHP can accelerate your practice. Don't miss this limited time opportunity!
Coming Soon – We aim to make the CliniCard website your favorite for reliable healthcare information, resources and services. Check in often to see what we've added .
---